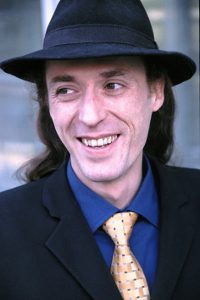 Sebastià Freixa Povo:
Born in Barcelona on September 29th of 1972, son of artists, father and mother were professional photographers.
Sebastià Freixa is an experienced self-taught professional that started his training in the world of work aged sixteen, collaborating with different professionals of graphic design, animation and video. Aged thirty he also learns by himself web programming and development of interactive media.
From 1988 until approx 1995 he was learning by working with:
Lluís Mestres Design Studio: different projects for the Generalitat de Catalunya, the internal signalling of the International Olympic Committee (Bcn '92), the typesetting of the Oscar Niemeyer book, various catalogues.
David Freixa (Reset, video producer): corporative videos, video-art and 3D animation.
Industrias Bec: styling of the first-stone gala of the Barcelona's 'Illa Diagonal' building (Winterthur), giant t-shirt of the Seat building during the Olympic Games, various expositions.
Estudi Joan Barjau, graphic design and creation of the typeface (IVÀ) for the credits of the Makinavaja film.
Jordi Amorós (Cine Nic): classic animation shooting of the Xarmendu film, animator assistant in advertising spots for Telefonica, Kellogg's, Renfe, Johnson's, GoodYear.
Victor Luna (Animandus-Deltagrup): animation video-game for Mariscal, various advertising spots.
Felip Orozco: animation series for Cromosoma (The Three Twins) and for D'Ocon Films.
Roberto García: animation series for Alfonso Productions (Madrid) and Cromosoma.
From 1996, already as a freelance with his own studio, has been working in the following projects:
Design:

Graphic design of an exposition about the big shows during the Barcelona '92 Olympic Games, for the Institut del Teatre.
Branding of logos and corporate identity for Pescados del Ártico, Marsan, Anna Povo, Riuada, Klippel, Cussons-Hansmann, CoopFunding, FairCoop, EspaiTransparent
Design of advertising for Institut Geocrom, Yeti Emotions, MTM Editores, Ermie, ReggaeShack, FairCoop, EspaiTransparent.
Design and layout of books: for publishers Harmonia's and MTM, and makes the photos, the design and the publishing of the "Pirineos FreeStyle" book and the "FreeRide a la VallFarrera" mountain guide.
Web design for Harmonia's, Marta Povo, Ariadna Bufi, Yeti Emotions, Clowns Without Borders, CoopFunding

Animation:

Filmmaker of animation segments (2d and 3d) for the spanish Sesame Street program (CTW), hired by RTVE (spanish national TV) as a script writer, storyboard designer and soundtrack music composer, from '96 to '99, and also making the animation segments with my own team.
Filmmaker of a 3d segment for the Departament d'Arquitectura i Habitatge de la Generalitat.
Animations for the producers GHV (Oriol Vilaseca), Cine Nic, Animandus, Cromosoma, d'Ocon Films, Alfonso Productions, the Yeti Emotions company, the publishers DigitalText, OmnisCel·lula (Hector Ruiz) and the FairCoop cooperative.

Programming and software development:

Creates the AS2 platform for the interactive text-books of publisher Digital-Text (2007-2012) and after also for Science Bits (2012-2013),
Creates the management tool for CIC-Mob, the mobile telephone service of the Integral Catalan Cooperative, with PHP-MySQL, JavaScript, CSS and html (2013).
Web development on wordpress and custom payment gateways for CoopFunding and for GetFaircoin (2014)
Web development of the Open Collaborative Platform with Python (Django) and Postgresql since 2016, using the REA accounting model, nowadays used by the worldwide cooperatives FairCoop, FreedomCoop and Bank of the Commons.